Advertising Plugins for WordPress (Part 2)
As we've promised, this is the 2nd part of advertising plugins collection developed especially for your WordPress websites. You'll find plugins for inserting video presentations on your websites, adding notification bars, creating interstitial ads, including social share buttons into every content image, building affiliate websites, and more. Let's review them now!
Online advertisement consists of a lot of promotion types and has plenty of purposes, so video presentation is a great variant among others. You can use it to get your business noticed and connect with customers, showcase your work and create unforgettable user experience, or put your life in motion by sharing emotions from traveling, weddings, and other events. You can use either square or landscape video to impress your website visitors from the first seconds. The following plugin will come in handy in this case.
Video Intro for WordPress
This plugin allows your visitors see a video presentation before they get into the main content of your website. Features of the plugin include auto redirect after the end of the video, skip intro button, custom frame border, unlimited styles and colors, custom logo, and many more. Try it out!
Notification bars are widely used by modern website owners to drive more traffic to the definite page and, as a result, increase revenue. Notifications are used to announce important information regarding your website or catch users' attention to persuade them subscribe to the newsletter, etc.
If there are any special offers, sell-outs, discounts, holiday offers, or other important news you'd like to inform your users about, notification bars are very useful. The following plugin will make your notification bar both effective and attractive.
BugMeBar – A Simple Little Notification Plugin
This plugin allows to add a message to the top of the screen. Your user can either read it or dismiss it at once. You can use cookies to make the notification stay invisible after a user has dismissed it just once.
The features of the plugin allow to choose the place where the bar will be shown, enter any text of the message, set colors for links, message and transitions, align message and close button, and get many more features. Just download the plugin and try it today!
Have you heard of interstitial ads? You've probably seen fullscreen ads that cover the whole interface of the application, if yes, you've seen the interstitial advertisement. Such ads are typically displayed at transition points in the flow of an application. For instance, you pause a game, and then this ad appears.
Such ad units are often 10 times bigger than traditional ad banners, so they are an almost guaranteed way to get users attention and get a higher conversion rate.
Interstitial ads have a high engagement rate and help to get more income than standard ad banners. The following plugin will be helpful for your advertising needs.
Interstitial Ads for WordPress
This is a plugin for WordPress which allows to show immersive interstitial ads on any website. You can use it to promote a product, offer your users to subscribe, download a trial version of a product, etc.
The features of the plugin allow to show interstitial style ads easily and quickly, disable timer, close or skip button, control how frequent ads are shown to your users, and more. Check it out now!
Social media allows to increase your brand awareness and lets more people find out more about your product. If you add social share buttons on your website, it will help you get likes on Facebook or retweets on Twitter. So you will get more visitors, more traffic, greater amount of followers and subscribers. Today it's possible to add social share icons on your post images, and the following plugin is intended for it.
WordPress Image Hover Showcase
This plugin is made to boost your social sharing and increase your website traffic for your profit. It allows to add social share icons to every content image or a featured image on your posts, pages and post types. You can either select an option to do it automatically or do it manually via custom editor button.
The plugin allows to add image title and custom button for any CTA button, any marketing or downloadable links, Buy Now button or any other target URL.
Today it's very easy to earn money on the Web. You can create an affiliate website and get income on referred users, create a website for product reviews and price deals or launch a site for product comparison.
Fortunately, there are plugins that help to create a profitable website within a matter of minutes, and the following one is exactly that one.
Content Egg – All-in-One Plugin for Affiliate, Price Comparison, Deal Sites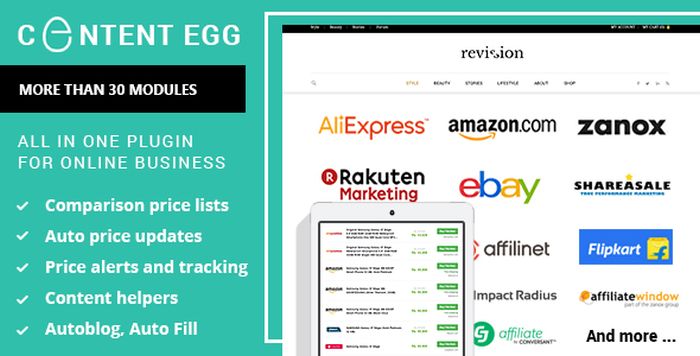 This is an all-in-one solution for creating profitable websites like deals and product reviews, affiliate websites, and more. The plugin allows to easily add offers from different affiliate systems by keyword, automatically update prices and offers, generate auto updating price comparison lists of actual offers with a keyword, set search filters for modules, and more.
Conclusion:
Hope some of the mentioned above plugins will come in handy for your websites or applications to fulfill your advertising needs. Of course, we will be happy to hear from you and find out what you would like to see and read on our blog next. You're always welcome!
The post Advertising Plugins for WordPress (Part 2) appeared first on .