15 Dental Care and Dentist Clinic WordPress Themes for Health Websites
Dental care is something that depends both on your own efforts and professionalism of dentists. You clean and floss your teeth everyday but you should also visit your dentist although twice a year to check your mouth for possible problems, clean your teeth with professional tools and toothpaste and receive recommendations as for further care.
In this collection we've hand-picked only the best and the newest dental health and dental care WordPress themes for dentists, dental hygienists, toothpaste and toothbrushes providers, and other related experts. All of the themes are rich with features, so they open a lot of possibilities for creating a dental care related website within a matter of minutes. Check them out!
Medical & Dentist – Medical WordPress
Before we have any problems with teeth, our dentists warn us to take care of their health to prevent illnesses. Basic dental care involves brushing and flossing your teeth on a regular basis, seeing your dentist or dental hygienist for regular checkups and cleanings, and eating a mouth-healthy diet including grains, vegetables and fruits, as well as dairy products. If you stick to all of these rules, you won't have any problems with teeth till the old age.
This medical and dentist WordPress theme is designed for almost all possible medical practices, and of course for dentists and dental clinics. The theme has a purpose oriented design and comes with appointment booking form, timetable, opening hours, department management, and more features. The theme is simple and understandable, so it is suitable even for users with zero programming skills.
Dentalia – Dentist & Medical WordPress Theme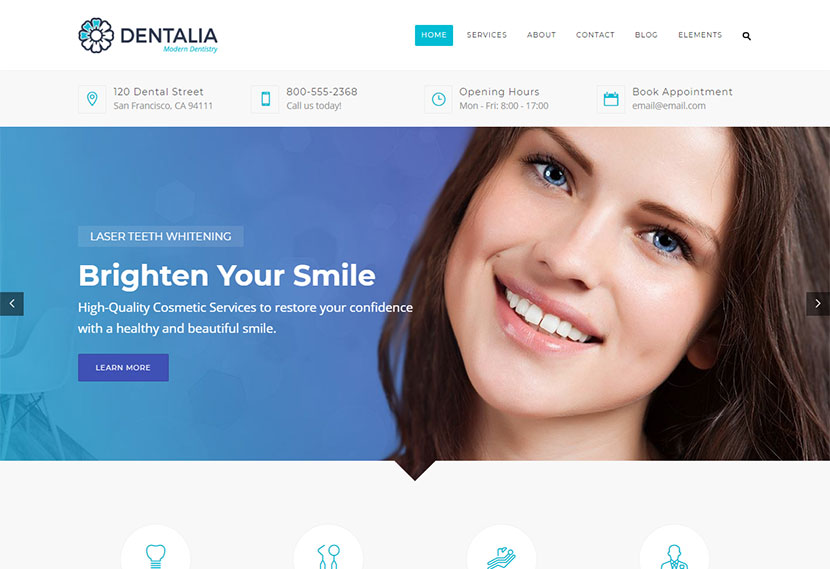 Tooth decay and gum disease are caused by plaque, a sticky combination of bacteria and food. Plaque begins to build up on teeth within 20 minutes after eating. If teeth are not cleaned well each day, plaque will lead to tooth decay. If you do not remove plaque, it turns into a hard deposit called tartar that is trapped on the tooth. Plaque and tartar irritate and inflame the gums. Bacteria and toxins they produce cause the gums become infected or swollen.
Take care of your dental health to prevent any problems. Dentalia is a highly customizable WordPress theme suitable for dentists, healthcare companies and other medical websites. The theme comes with modern and clean design as well as fully responsive layout. It has got unlimited color options and includes an intuitive page builder for easier page editing process. More than 25 custom widgets allow to create a structure of medical site in minutes.
Dental Health – Dentist Clinic Medical WP Theme
Investing in dental health can yield many benefits, and one of them is that you save your time and money, you feel good and you have less health troubles than many others. It's essential to take care of your mouth and teeth to prevent cavities, problems with gums or even tooth loss. Brush your teeth every morning and evening, use fluoride toothpaste, use floss to clean between your teeth, limit sugary snacks, see your dentist on a regular basis, don't smoke and you'll succeed.
This is a dental health oriented WordPress theme appropriate for dental surgeons, dentists, and other related medical experts. The theme includes unique page layouts for dentists, dental service, doctor profiles, appointments and inquiry pages. The theme comes with plugins to help you configure your websites once you download the theme. It includes Visual Composer page builder plugin and Revolution Slider premium plugin for creating beautiful slideshows.
Dental Care Medical – Dentist – Health WordPress Theme
Oral health touches every aspect of our lives but it is often taken for granted. Your mouth is a window into the health of your body. It can show signs of nutritional deficiencies or general infection. Systemic diseases, those that affect the entire body, may first become apparent because of mouth lesions or other oral problems. Whether you are 80 or 8, your oral health is important. Most Americans today enjoy excellent oral health and are keeping their natural teeth throughout their lives. Become one of them today!
This WordPress theme is suitable for all types of dental services, dental clinics, or dental doctors. The theme comes with 2 homepage variations and 16 inner pages included. You can use the layouts to introduce your services, share portfolio of your happy clients with healthy teeth, share the news of your clinic, and more. The theme is compatible with Yoast SEO plugin, comes with comprehensive documentation, responsive and retina-ready design, and more features.
Medent – Dental Clinic WordPress Theme
Oral health is intrinsically linked to general health. The mouth can be a source of infection and can act as an early warning system for troubles in other parts of the body. Oral health is essential for general health and well-being at every stage of life. A healthy mouth enables not only nutrition of the physical body, but also enhances social interaction and promotes self-esteem and feelings of well-being.
Medent is the newest modern WordPress theme specially designed for a dental clinic or a personal dentist website. This theme will be the best solution if you're looking for a way to create a web space that will make your business thrive. This theme has a unique, exquisite design and carefully thought-out layout. It has parallax sections and, moreover, you can add animation to any element you want. It includes many widgets and shortcodes. Your website is going to be as effective as it can be.
Dental Prime- Medical Health Care & Dentist Center, Multi-Purpose Responsive WordPress Theme
Oral health is important for general health and quality of life. It is a state of being free from mouth and facial pain, oral and throat cancer, oral infection and sores, periodontal diseases, tooth decay, tooth loss, and other diseases and disorders that limit an individual's capacity in biting, chewing, smiling, speaking, and psychosocial wellbeing.
Dental Prime is a dental clinic WordPress theme that is meant for dental clinic, private dentist office, private doctor office and hospital website, for small clinics like pediatric, health-care clinics, gynecology or general therapist clinic, family doctors and ambulance. Any functionality a medical website needs is provided by the Dental Prime theme. It is a great solution either for professional developers or people with zero coding skills.
Prident – Medical and Dental Clinic WordPress Theme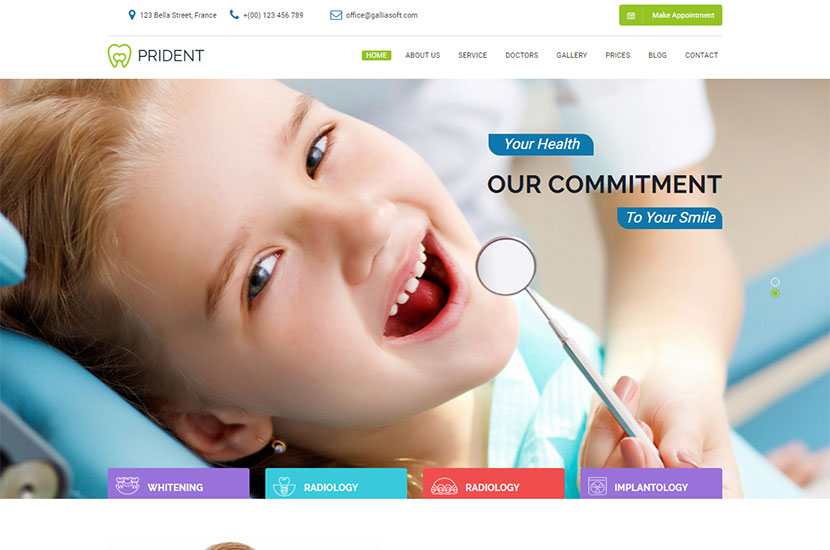 Like many areas of a body, your mouth is teeming with bacteria — most of them are harmless. Normally, the body's natural defenses and good oral health care, such as daily brushing and flossing, can keep these bacteria under control. However, without proper oral hygiene, bacteria can reach levels that might lead to oral infections, such as tooth decay and gum disease. It's always possible to prevent.
Prident is an awesome medical and dental WordPress theme specially made for all types of dental services, dental doctors and clinics. The theme comes with clean and unique pixel perfect design adapted to all mobile and desktop devices. The theme includes extensive documentation, supports social media profiles, video content from YouTube and Vimeo, free updates and support, dummy content, and many more features.
Medison – Medical, Dental Clinic WordPress Theme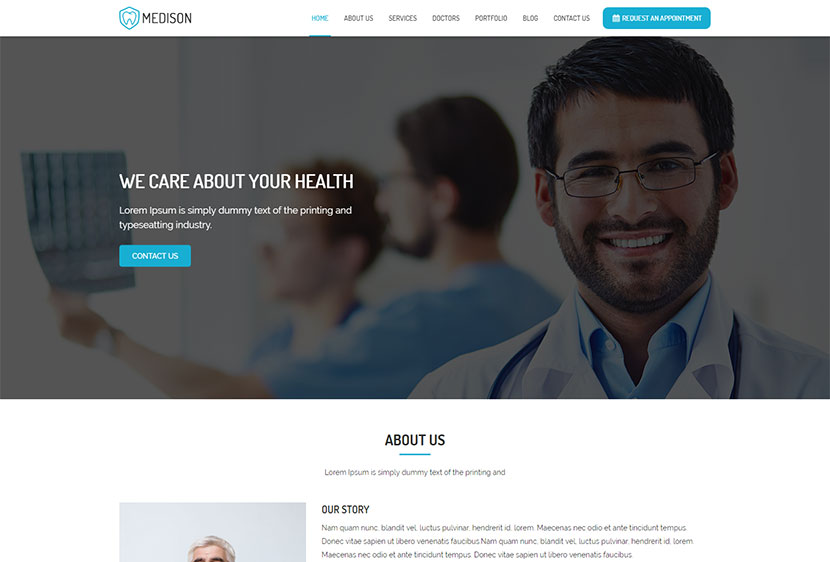 Teeth are actually living structures, though they may not look it. The bonelike enamel, or crown, on the outside of each tooth hides an interior chamber filled with dentin. This is a rigid mesh of mineralized connective tissue. Each tooth's core consists of nerves encased in a pulpy sheath under a layer of dentin. Canals in the center of each tooth root and they allow nerves to hide. Your teeth are anchored in your jaw by sturdy ligaments and a material called cementum.
Your oral cavity collects all sorts of bacteria, viruses, and fungi. If you regularly clean your teeth, you can avoid all of those problems. Medison is a dental clinic medical WordPress theme which comes with flat, clean, minimal and modern design and can be suitable for dentists, dental practices, dental clinics, dental hygienists, orthodontists, endodontists, health clinics, doctors, oral health care providers and any other health and medical organizations.
Dental Care Pro – Health & Medical Theme
Healthy mouth and teeth are an important part of a child's wellness. Teaching your child proper oral care at a young age is an investment in his or her health that will pay lifelong dividends. You can start by setting an example; 'cause taking good care of your own teeth sends a message that oral health is something to be valued. Anything that makes taking care of teeth fun, like brushing along with your child or letting them choose their own toothbrush, encourages proper oral care.
Dental Care Pro is a full-featured WordPress theme designed for dental health clinics. It comes with an intuitive drag-and-drop page builder, unlimited colors, responsive layout, and Boosted Elements Add-on which allows to easily create sliders, maps, popups, and more. Mega Menu is included to easily create a user-friendly drop-down menu. The theme is fully responsive and search engine optimized, so it will be easy to browse on any device and easy to index for search spiders.
The Ark Multi-Purpose WordPress Theme
Brushing your teeth every morning and night doesn't guarantee you're giving your mouth all the attention it needs. Even a regular oral hygiene routine could be leaving gaps if you engage in a few not-so-great habits with your time at the sink. By understanding proper brushing technique and ensuring you have the right tools in your cabinet, you can make sure you have all of your bases covered when pursuing a more thorough clean.
Ark is a multipurpose WordPress theme which is appropriate for almost every business and activity, and health care industry including dental care is no exception. This is a feature-rich theme which comes with tones of pre-defined designs and content, a fresh page builder, fresh grid and layout system, customizable headers, blog and portfolio layouts, and many more important features. You will find 20 pre-configured homepage layouts and more than 300 prebuilt pages. Check out all the advantages of the theme now!
Medigroup – A Modern Multidisciplinary Medical & Health Theme
Many people brush regularly, but simply don't brush enough for their teeth to stay clean. It's highly recommended to brush your teeth for at least two minutes, twice daily. Always look for a brush whose head and bristles are small enough to reach into the crevices of your molars, where food debris can hide after you eat. Flossing must be done as properly as brushing because when you reach between teeth, you actually get to the germs that are stuck there.
Medigroup is a highly customizable WordPress theme which comes with extensive admin interface, simple one-click demo content import feature, responsive and retina-ready design. No coding knowledge is required to edit and manage the theme's structure and create your very unique layout in minutes. The theme includes social share functionality, lots of ready widgets and shortcodes, Visual Composer page builder plugin, revolution Slider, and more plugins and features.
Vital Health, Medical and Wellness WordPress Theme
You don't need any special equipment or covers to keep your tooth brush itself clean. Just rinse your brush after each use and allow it to air dry. You should also avoid sharing brushes with others, even your kids. Bristles deteriorate with time and usage, so if you're using the same toothbrush beyond a few months, you may not be getting the best clean anymore. Rather, make a point of getting a new brush every three to four months or at your semiannual dental checkup.
Vital is a WordPress theme specifically developed for health, beauty and wellness industry. It comes with complete conceptual demos available for a wide range of health websites, and dental care is no exception. You get a few ready variants of homepages and inner page layouts to create full-fledged multipage website designs. All editing process is possible with the help of a page builder which is intuitive and easy to use.
MedicalGuide – Health and Medical WordPress Theme
Hungry for a midnight snack? Brushing well may clear your teeth of bacteria and food particles, but if you eat a snack afterward, you'll need to brush again before bed. Having a snack before sleep without brushing can allow food particles and sugar remain on your teeth for too long, providing fuel for bacteria that feeds on it. You can easily avoid it if your properly take care of your teeth.
MedicalGuide is a fully dynamic, well structured and beautiful WordPress theme for health and medical websites. The theme is highly suitable for doctors, dentists, hospitals, health clinics, surgeons, and other types of health and medical related organizations. It has special features to manage appointment forms, services, doctors, department, timetables, pricing tables, contact forms, newsletters and testimonials. The theme comes integrated with Visual Composer page builder so you can use it to easily build pages by dragging and dropping the elements and without using any coding skills.
MediClinic – A Multipurpose Health and Medical Theme
Oral hygiene should be a part of any system of body health. If you follow all the dental health care rules you can ensure you're doing everything in your power to keep your mouth cavity-free. Try to brush at least twice a day to prevent acid buildup from the breakdown of food by bacteria. Flossing can help you remove food particles and other detrimental substances that brushing isn't able to. You can also take a calcium supplement for your teeth and bones, just take different doses according to your age and necessity as per prescription.
This is a highly customizable WordPress theme which comes with extensive admin interface and 12 beautiful homepages, big custom shortcodes collection, and many more features. The theme is suitable for any medical services website, and dental clinic is no exception. The theme is easy to edit with the help of Visual Composer page builder which allows to create any layout you require. Use the integrated Revolution Slider plugin to craft impressive presentations on the Web.
Visage Medical & Health WordPress Theme
We all know how important dental health is for our overall health, but not all of us take care of our dental health right. It's important to visit your dentist at least twice a year to have a full hygiene treatment performed. At these appointments, a comprehensive exam is taken with x-rays to help detect and prevent future dental treatments from occurring. Remember that preventing is always better than curing.
Visage is a clean medical and health WordPress theme highly suitable for doctors, dentists, hospitals, health clinics, surgeons and other types of health organizations. It has a purpose oriented design, responsive layout and special features to manage contents for medical and health care websites. With stacks of layout designs, user friendly theme options and rich drag and drop content builder Visual Composer, it will help you create your perfect websites in minutes.
Conclusion:
We keep on providing you with the most comprehensive and simple to use WordPress themes for your multiple purposes concerning website building. Feel free to inform us what you'd like to see next. Thanks!
The post 15 Dental Care and Dentist Clinic WordPress Themes for Health Websites appeared first on .