Yachting, Sailing and Swimming WordPress Themes for This Summer
Yachting refers to the use of recreational boats and ships often used for sporting purposes. Sailing yacht is a great way to take a rest either if you are tired of fuss and you strive for solitude and contemplation or you are about to communicate and have a good time with your team. Yachting is also a good chance to test yourself, your abilities and strengths, and it is a very comfortable way of traveling.
A lot can be also said about swimming, especially when it comes to summer rest and gorgeous beaches with warm white sand, blue transparent sea water and palm trees around. Swimming is always a good way to relax, and sometimes – a great way to keep fit. If you've got a swimming pool in your backyard, it's also an amazing opportunity to swim every day even if you have no time to visit a spa resort.
Fishing Yacht Water Sports – Fishing Club WordPress Theme
Do you like fishing? Actually, it's a good way to spend free time and it's a great kind of hobby. In addition, this is a perfect chance to catch a fish you were dreaming about and then make snapshots to remember it as one of your everyday achievements. Some people catch fish and let it go back to the sea, others catch fish to eat and cook a fresh and tasty meal, opinions differ but fishing stays a favorite type of leisure and hobby for millions of people across the globe.
Fishing club is a nice WordPress theme suited for a fishing agency, tour or club, for yachting, marine life, fishing sports, water sports, and other similar activities. Layouts like gallery, events, shop pages, and more templates are available with the theme. Visual Composer page builder, Revolution Slider plugin, unlimited color options, and many more features are available. The theme is also WooCommerce ready.
Shaka – A Beach Business WordPress Theme
Do you like beach sports? Wakesurfing is one of them. This sport supposes riding a boat's wake without being pulled by the boat. These days wakesurfing has taken the wakeboard industry and water by storm and it is quickly growing into one of the most exciting and challenging sports behind a boat. It wasn't until the last decade that boat and board designs have allowed the progression of wakesurfing to reach new heights. Tow boat manufacturers are now designing boats specifically for wakesurfing.
Shaka is a magnificent WordPress theme specifically made for beach sports. You can choose it either for diving classes or a surf school website. This theme will provide your users with unforgettable experience while building their website with it. The theme is integrated with real-time customizer, comes with tons of widgets and sidebars, responsive and retina-ready design, multilingual support, and much more features. This is a great choice for creating your beach-sports website.
Insignia – High Performance Creative MultiPurpose WordPress Theme
Water sport is not just a cool way to spend your summer but also a great way to keep fit and have fun. Windsurfing, kitesurfing and other types of sports when you conquer the sea are the ones that are sure to make you get a good doze of adrenaline. You can either choose windsurfing when your board is powered across the water by the wind, or just surf and propel forward with the force of waves. Anyway lots of emotions are guaranteed.
Insignia is a flexible and ultra responsive WordPress theme which has been developed as a multipurpose solution for many types of businesses, and water sports is no exception. The theme includes more than 10 variants of headers, an easy-to-use powerful admin interface, fully customizable title area, mega menu, fullscreen menu, dynamic header colors, WooCommerce full design integration for online shops, video support, and many more features.
Malta – Windsurfing, Kitesurfing & Wakesurfing Center WordPress Theme
Polynesians have been using boards with sails for hundreds of years. It wasn't until the 1960s that windsurf board design really developed and became the sport we know today. You can practice windsurfing anywhere with a big body of water and wind, such as lakes, rivers, estuaries and the open ocean. This sports grew hugely in popularity during the 1980s when it was estimated that one in every three household in Europe had a windsurf board. Today windsurfing stays popular in Malta, Hawaii, Bali, and anywhere else.
Malta is a WordPress theme dedicated to water activities. It comes with modern and functional design, clean typography, Visual Composer page builder, Essential Grid and Revolution Slider. The theme is mostly suitable for wind- and kitesurfing, canoeing, diving, beach volley, waterskiing, and other related kinds of sports. The theme is compatible with the latest version of WooCommerce, so you can use it to easily create an online store and sell water sports equipment like boards or swim suits.
Yacht Charter – WordPress Theme
When recreational boats and ships are used for sports purposes, it is called yachting. A yacht is normally a larger and much more luxurious sea vessel than a boat. Yachts are not generally used for commercial purposes, but are luxury recreational vessels. Yachts are different from working ships mainly by their leisure purpose. Some yacht owners even use their vessels to make a journey round the world and get a lot of unforgettable impressions.
Yacht Charter is a modern WordPress theme specifically designed for yachting, boating, water sports, and lots of other marine activities. The theme comes with the built-in online booking form, fully responsive layout, WPML support, Visual Composer page builder integration, Revolution Slider included, advanced admin panel, and many more features. The theme is easy to customize and suitable even for those who have no coding knowledge at all.
456 Sailing – Sport Shop & Yacht / Transport / Travel WP Theme
While the sport does resemble surfing, it's more closely aligned with sailing – windsurfers call themselves sailors and their rules are very similar to sailing racing rules. There are several different disciplines depending on which aspect of this sport you enjoy – from big-wave and freestyle to slalom and course racing. No matter what water sport you choose and like the most, this is anyway a great way to spend your vacation or just have a good active hobby.
256 Sailing is a cool WordPress theme available for marine sports, fishing, shipping, yachting, windsurfing, and other related sports websites. Features of the theme include Visual Composer drag and drop page builder plugin integration, more than 26 content elements and Ultimate Addons, and table manager for Visual Composer, catalogue mode, and more. The theme is compatible with WooCommerce with multiple images per variation feature. It is a translation ready one, so you can easily create a multilingual website.
Swim School WordPress
Many of us like to swim, let it be a swimming pool, a river or a sea. Fortunately, even if you can't swim, you can easily learn this skill in the swimming school. Such schools include a lot of swim classes types which include infant aquatics, pre-school programs, school-aged programs, swim fit, adult learn-to-swim, and many more kinds of classes. Swimming is a great way to relax, keep fit, remove fatigue and feel oneself like new. The following theme is a great variant for building a swimming school website with ease.
This is a comprehensive niche-specific WordPress theme which comes with unique and innovative design and suitable for swimming sports training institutions, as well as other related facilities. This theme allows to present your training services in a creative way: you can share your training videos and lessons, introduce your coaches and show off your services. The theme contains 12 page layouts, 3 homepages, and more inner pages. It will appear attractive and impressive to users.
DeepOcean Responsive WordPress Theme
Do you like diving? Among other types of water sports and leisure, this kind requires some little specific training and you can jump or fall into water and feel an absolute freedom. Diving can be divided into two types which include jumping from a platform or a springboard and falling into water from a boat when you wear a diving suit with diving equipment. Diving is an internationally recognized sport that is part of the Olympic Games.
DeppOcean is a one-page parallax WordPress theme suitable for diving sports related websites. The theme comes with completely responsive design based on Bootstrap framework. It is bundled with Slider Revolution, responsive layout, clean code, smooth scroll, cross-browser compatibility, 9 beautiful color variations, masonry styled blog layouts, sticky header options, and many more extensive features.
Ocean Premium WordPress Theme
What is more beautiful and fascinating than a deep wide ocean? It covers the whole Earth, it contains a lot of unsolved mysteries and a lot of amazing inhabitants. Ocean can be angry and make the vessels sink, but for surfers ocean is mild and friendly if they are skilled enough to drive their board with ease and cut the waves. Ocean is a great name for the following theme and a great inspiration for creative and active people.
This is a WordPress theme suitable for portfolios, blogs, and other related websites. The theme comes with 15 different page layouts, awesome camera sliders, 2 portfolio layouts, unique blog styles, rich styling elements, and many more features. Since the Ocean uses 960 grid systems, the theme is easily customizable. It has a fully responsive skeleton so it looks great on any desktop and mobile devices.
Yacht Sailing – Marine Charter Booking – Selling Template
Sailing isn't what people think it is. It's not glamorous and ritzy though it can be expensive; it's not white shoes and blazers. It's more camping than country club, often rough, smelly, and dirty. Vomiting is not uncommon. There are many kinds of sailing which include passage-making, cruising, racing, day-sailing, and more. So everyone can choose the kind of yachting appropriate exactly for their needs. Real sailing allows for solitude and contemplation, and this is a great way to have a rest when you are tired of fuss.
Yacht Sailing is a specially crafted WordPress theme suitable for yachting, sailing, marine business, charter booking, and charter selling companies. The theme has impressive, modern and sleek full-screen layout, using 1170px Bootstrap grid system with the latest trends including parallax effects and scrolling. It allows users to jump between pages in order to provide the best user experience possible. Lots of features are available.
Swimming Pool and Spa – WordPress Theme
Swimming pool is a nice way to relax and swim, have a rest and forget about fatigue. Pools are often available in hotels and private houses, 'cause this is a great way to have a piece of a beach at home or at the place where you stay for a while to have a rest. There are different designs, types and styles of swimming pools, and all of them differ depending on their purpose (either sports training or recreation).
This WordPress theme is created with a goal to provide easy-to-use templates for any kind of business websites for pools and wellness. The theme comes with ultra-modern minimal layouts and provides a great look as well as speedy customization opportunity. This theme features a wide variety of options enabling you to create unlimited variations of styles and layout designs. No need to know even a single line of code, Visual Composer page builder is integrated into the theme to provide an ability to drag-and-drop elements and build a website with ease.
Invory – Pool, Cleaning, Laundry, Construction, Travel WordPress Theme
Just like anything else, swimming pools come in all different types, designs, sizes, shapes and are used for various purposes. Budget, lot size, local codes and availability of materials are the main factors that identify what type of pool you will eventually resolve to build or install in your property. Swimming pools are often built for sports and professional trainings, for saunas, hotels, and spas, so they are highly on demand. Pools are always a great type of relaxation for many people who like to swim.
Invory is a multipurpose WordPress theme which is professionally coded, graphically designed and expertise tested to become a good solution for building a website for traveling, hotels, pools construction, resorts, and many more purposes. The theme has 6 artistic homepage styles, 8-color pre-options, and lots of features. The features include Revolution Slider, Visual Composer page builder, WooCommerce compatibility, and many more advantages. This theme is going to convert your growing business into proliferative monetizing business.
Pool Services WordPress Theme
If you own a swimming pool in your cottage, you obviously need some pool services to keep it clean and intact. Pool services include creating a project, building a pool, cleaning it, repairing it, renovating and maintaining. Pools can be built as above the ground or inground ones, they can be crafted as the river ones or pools for spas. If you are about to build a swimming pool in your backyard, don't hesitate and order the pool building services to get a good place for relaxation.
This is a modern, clean and professional WordPress theme which comes with useful features helpful to create a website within a matter of minutes. The theme is the best choice for all pool services, pool cleaning services, and other related businesses. The theme is based on Bootstrap framework, it comes with Visual Composer page builder and requires no specific knowledge for building a cool website with simplicity. As the theme is fully responsive, it looks amazing on any screens and devices.
Pool Maintenance Services WordPress Theme
As the swimming season comes, cleaning your pool on a weekly basis is a compulsory task that will ensure clean and safe swimming water. Use a long-handled leaf skimmer to gather up leaves, insects, and any other debris floating on the water surface. You can also order pool maintenance and pool cleaning services to get professionals make the cleaning for you. When your pool is clean and free from rubbish, you can feel safe about swimming and bathing in it without any risks.
This is a pool services WordPress theme that has modern and functional design perfectly suitable for pool maintenance services website. With lots of customizable features you can create both trendy and easily-operated website for your repair and maintenance business. The theme is fully responsive and retina-ready one, it comes integrated with premium plugins like Essential Grid, Revolution Slider and Visual Composer page builder, so it allows you both save your time and money on building website with no efforts.
JellyPool – Pool Maintenance & Cleaning WordPress Theme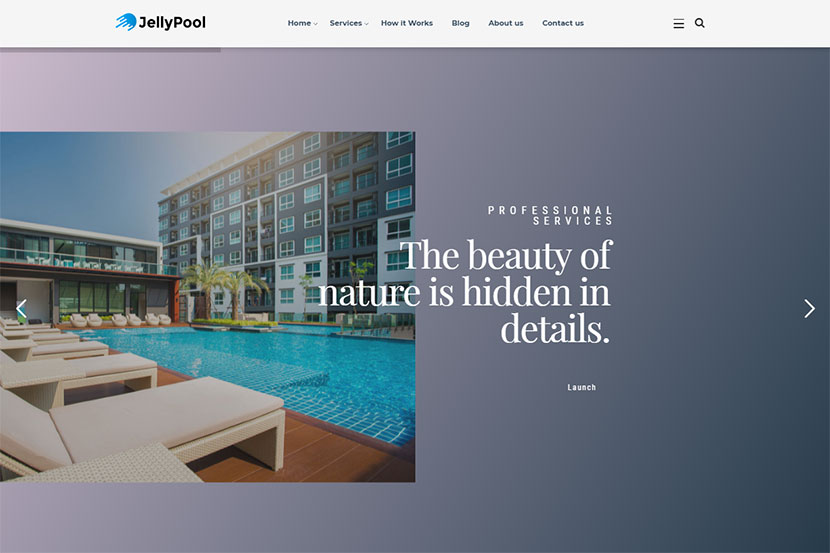 Keeping your pool sparkling clean isn't as cumbersome task as you might think. All pools are different, and so are their maintenance needs. The secret of pristine pool health is regular, routine care. If you choose to handle common problems like murky water or broken pumps on your own, make sure to always consult manufacturers' manuals before fixing or using equipment. Even if you rely on a service company to take care of your pool, you still need to do a few things on your own to ensure your pool stays in good condition for years.
JellyPool is a great WordPress theme for pool maintenance and cleaning services. Of course the theme comes integrated with Visual Composer and Revolution Slider, so building a website without special knowledge and creating stunning online presentations is not a problem anymore. The theme also includes video and background parallax, Redux framework options panel, unlimited sidebars, styling settings, responsive layout, and many more features.
Conclusion:
We hope this hand-picked theme collection will be helpful for you if you are looking for selective WordPress themes for your next water sports related website.
The post Yachting, Sailing and Swimming WordPress Themes for This Summer appeared first on .