15 Best WordPress Themes to Sell Your Houses and Property
Real estate is property comprised of land and buildings on it as well as the natural resources of the land including uncultivated flora and fauna, farmed crops and livestock, water and minerals. Although media often refers to the real estate market from the perspective of residential living, real estate can be grouped into three broad categories based on its use: residential, commercial and industrial. Are you a property owner, a broker or agent? You are at the right place.
The following collection of WordPress themes is hand-picked for everyone related to real estate and single property sales business. These themes are unique solutions for building your real estate websites with search forms, property lists, mortgage calculators, and many more exclusive features. Check them out!
MyHome – Real Estate WordPress Theme
Real estate is all about people, 'cause selling homes is the art to meet the needs of people concerning their conditions of living. When a property owner wants to sell a huge mansion, they would likely address qualified experts from the real estate agency. Such agents have enough experience to find buyers in the shortest possible time, and those buyers will be worth to trust. Sometimes you can sell your property without anyone's help if you've got a friend ready to buy it directly from the owner.
MyHome is the real estate related WordPress theme which comes with innovative search form and allows visitors to find any property they need just using a simple filter. By the way, the theme includes an ability to search for the property by map with exceptional ease. The theme comes with 4 different demos and 9 homepages so you can choose a homepage up to your needs. The theme is translation ready, comes with a few types of payments integration, Visual Composer, and many more features.
Home Villas Real Estate WordPress Theme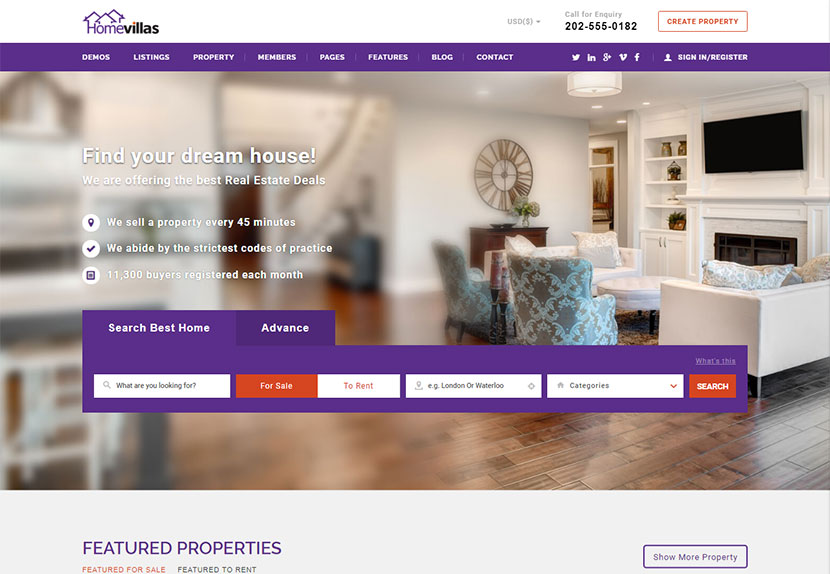 Today it is easy to sell any property online. You can upload your property photos on the real estate website, add description, list particular details, add address on a map and then wait your potential clients are interested in purchasing it. Of course you should promote your ad, create ads on a few different websites, make everything that depends on you to sell your house and get your profit or entrust your property sales to the qualified agents.
HomeVillas is a completely responsive WordPress theme specially built for real estate business to attract property sellers and potential buyers. You can create a website for your target audience to provide them with full freedom of choice. You can make elegant headers, listings and property templates, add unlimited property features, photos, schedule a viewing, use mortgage calculator, property documents, yelp places, walkscore, multi-units, currency options, and many more features that are included.
FullHouse – Real Estate Responsive WordPress Theme
Online property sales is a great variant of making a deal that offers innovative, effective and affordable online marketing producing great results. If you use online marketing methods to sell your house, you get more chance to succeed than when you sell it by yourself or with the help of friends. If you have sold your property quickly and easily, you will probably consider it to be a good business, so you can create a single property or a real estate website and help other owners sell their properties online.
FullHouse is a great WordPress theme dedicated to real estate websites for agencies, property sellers, and other systems for managing properties and agents. The theme comes with flexible layout system with 11+ unique demos, creative design and ultimate core features to build an outstanding Real Estate website. The powerful search & filter system allows a user find their best fit property with ease. The 1-click installation will help replicate great demos in no time. FullHouse has its own intuitive theme control panel that includes lots of useful options to manage your site.
Apartment WP – Real Estate Responsive WordPress Theme for Agents, Portals, Single Property Sites
Every modern real estate website has a listing search form allowing to find a property that a site visitor and a potential buyer wants to get. Such forms allow to create a filter by a country, state, province, city, price, area, bedrooms and bathrooms amount, and more properties. This filter helps to avoid unnecessary ads and information and find that exactly necessary property you were looking for.
This is Apartment WP – a modern and creative theme for real estate websites. The theme is suitable for agents, single property websites, and other related sites. The theme is beautifully crafted and technically advanced one, and this will be the perfect solution for your website. Top notch industry options, like advanced Google Maps, Street View and panoramas with stunning visual effects, will help you to outdistance your competitors with ease.
Beyot – WordPress Real Estate Theme
Real estate is the property, land, buildings, air rights above the land and underground rights below the land. The term real estate means real, or physical, property. Residential real estate includes both new construction and resale homes. Commercial real estate includes shopping centers and strip malls, medical and educational buildings, hotels and offices. Industrial real estate includes manufacturing buildings and property, as well as warehouses. Land includes vacant land, working farms and ranches.
Beyot is a WordPress theme available for creating a website focused on selling and renting any type of property, it is designed for independent agents and agencies. Both on the front end and the admin site, this theme makes properties management a breeze. Front end submission form allows visitors submit their properties either for free or based on the subscription. The theme offers a purpose oriented design with all the useful features a real estate website needs.
Single Property Real Estate – Estato
Real estate refers to producing, buying and selling real estate. The real estate industry is a critical driver of economic growth. Everyone who buys or sells a home engages in real estate investing. That means you must consider several factors. Will the house rise in value while you live in it? If you get a mortgage, how will future interest rates and taxes affect you? Many people do so well with investing in their homes they want to buy and sell homes as a business.
Estate is a great WordPress theme diligently made for single property sales and rental websites. The theme is fully responsive, retina-ready and easy to customize. The theme is fully responsive, comes with free updates and free support. It offers a comprehensive options panel, unique page transitions, distinctive typography and customizable quote calculator. It also includes an easy to use and fast page builder.
Opalhomes – Single Property WordPress Theme
Investing in real estate is a great way to earn good income. You can invest in housing without buying a home. You can buy stocks of homebuilders. Their stock prices rise and fall with the housing market. Another way is with Real Estate Investment Trusts, called REITS. These are investments in commercial real estate. Their stock prices lag behind trends in residential real estate by a few years.
Opalhomes is a WordPress theme exclusively built for selling villas, apartments, luxury homes, houses, offices, and other related property. You can use this theme to quickly and easily create a single property sales and rental website. The theme comes with flexible layout system with 6+ unique demos, creative design and ultimate core features to build outstanding professional property website.
Space Home – Real Estate WordPress Theme
So how the real estate industry works? Construction of new buildings is a component of gross domestic product. It includes both residential, commercial and industrial buildings. New home building includes construction of single-family homes, townhouses and condominiums. Real estate agents assist homeowners, businesses and investors in buying and selling all types of properties. Sellers' agents help find buyers through their professional contacts. Buyers' agents provide similar services for the home purchaser.
Space Home is a WordPress theme which will easily become a fully functional website of a real estate agency or a single property owner. The theme comes with powerful options and tools, advanced search and mapping, powerful admin options, 3 pre-built demos, 2 header layouts, and more features. The theme supports awesome plugins as real estate pro (booking system, front end management, dsIDXpress, favorite listings, sub listings and much more), Visual Composer Plugin, etc.
Propper – Architecture WordPress Theme
The real estate industry is a big business generating billions of dollars in revenue annually, and there are ample opportunities for entrepreneurs to turn a profit. Real estate is a cyclical industry, reacting to macroeconomic trends such as interest rates, population growth, and economic strength. Real estate brokers bring together buyers and sellers of property, assist in price negotiations, and facilitate the work involved in deals from initial interest expressed through money being exchanged at closing.
Propper is a professionally made real estate and architecture one-page and landing page WordPress theme. The theme is suitable for promoting your developing project or your architecture agency. It includes 8 different header/hero section designs such as email input fields, countdown timer, floor/apartment selector, video presentation and more. It also includes 7 different footer designs and 2 navigation styles.
ReEstate – Real Estate with MLS IDX Listing Realtor Theme
Personal property includes intangible property like stocks, bonds, and other investments; it also includes chattels, like computers, beds, and clothes, as well as fixtures like the dishwashing machine in your apartment – if you bought and installed it with the lessor's permission. Real estate is a special instance of real property, which is real estate – land and buildings – plus the rights of use and enjoyment that come with the land and its improvements.
ReEstate is a real estate WP template suitable for property brokers, agents, and builders. The theme includes multiple homepage styles, 3 slider types, 3 header and menu styles, wide and boxed layout, unlimited colors, and of course Visual Composer drag-and-drop page builder plugin which allows to build a website with exceptional ease and with no coding knowledge required.
Parahouse – Modern Real Estate WordPress Theme
Despite of what is happening with the greater economy and real estate prices in general, the real estate industry offers diverse opportunities for the entrepreneur, including some hedges against trends when they're moving in the wrong direction! The real estate industry consists of three primary fields: brokerages, leasing, and management. Real estate brokers bring together buyers and sellers, leasing agents work with property owners to handle the complexity involved with finding, vetting and signing tenants for their properties. Management companies operate buildings and other properties.
Parahouse is a modern real estate WordPress theme which will suit for creating a competitive website for real estate industry and single property selling. You can use this theme to create a website for renting villas and apartments, for brokers, agents, property owners, and more. Every content & layout element of the theme has been optimized to look great everywhere, because the theme is completely responsive and adapts to any devices.
Home State – Single Property Real Estate WordPress Theme
More than ninety percent of people use the Web before purchasing real estate, and brokers have embraced online marketing with pictures of properties and virtual tours in order to prime their potential customers. Better educated purchasers, while potentially more discerning, can also speed up the sales cycle by knowing what they want and need. While there are fears that this will eventually eliminate the need for brokers all together, it's unlikely to happen anytime soon.
Home State is a single property and real estate related WordPress theme available for property owners and real estate agencies. This theme will provide you the best details page and tour page that will describe your property well. It will be very helpful for selling your property and advertising your property. The theme comes integrated with Visual Composer page builder plugin, Revolution Slider, 2 service page layouts, tons of modules and shortcodes, and many more awesome features.
Luxury Apartment – Single Property WordPress Theme
Property owners, particularly homeowners, can't dedicate the time to sell a home on their own, even with online tools smoothing out the process. There is an expertise and skill to correctly marketing and showing a property – and it takes a lot of time. That is why a property owner should better address a real estate agent to find a trusted buyer. The seller of a piece of property pays a commission based on a percentage of the sale price, so the agent has their profit for a deal.
Luxury Apartment is a WordPress theme for presenting a single property that an owner wants to sell. The theme comes integrated with Visual Composer page builder so you can manage its pages structure by dragging and dropping the elements. WP Composer included into the theme allows to manage the theme option in real-time. The theme comes with a lot of unique sections, location details, property details in blocks with icons, contact details, interactive timeline, and much more features.
Brixey – Responsive Architecture WordPress Theme
Investing in real estate is a profitable business. Before considering an investment in any industry, it's best to be aware of the risks. In the real estate industry these risks include macroeconomic factors beyond the control of the business owner, changing demand, increased supply, changing priorities or requirements for building management companies, particularly for aging properties. Considering those risks may help to avoid them.
Brixey is an architecture oriented WordPress theme with large set of carefully chosen and perfectly crafted page layouts with many practical elements and features. It will let you create and manage your website effortlessly and provide a revolutionary feel for your site. The theme comes with unlimited colors in Live Customizer, lots of shortcodes, advanced typography, Google map and fonts, child theme, font awesome and line icons, and many more features.
25 North – Single Property Real Estate WordPress Theme
Global megatrends will change the real estate landscape considerably over the next six years and beyond. While many of the trends are already evident, there is a natural tendency to underestimate how much the real estate world will be changed by 2020. The changing landscape will have major implications for real estate investment and development. It will increase the size of the asset pool, yet change the nature of investment opportunities.
Whether you are a real estate agent or selling your own home, 25 North theme is an excellent fit! It offers you the option of using a slider header or image header with all the sections you need to bring information to possible buyers in a beautiful and meaningful way. The theme comes with beautiful design, Customizer theme options control, single page scroll and multi-page capabilities, top or sticky navigation, responsive and modern design, and more advantages.
This is a carefully selected collection of the best professionally designed WordPress themes that will suit your real estate website creation needs. Got any concerns? We'll be happy to read them in the comments.
The post 15 Best WordPress Themes to Sell Your Houses and Property appeared first on .