8 Email Personalization Techniques That Work Better Than The Name Game
You already know email is important, but it's more powerful than you might think.
Email is 40x more effective than social media when it comes to gaining new customers.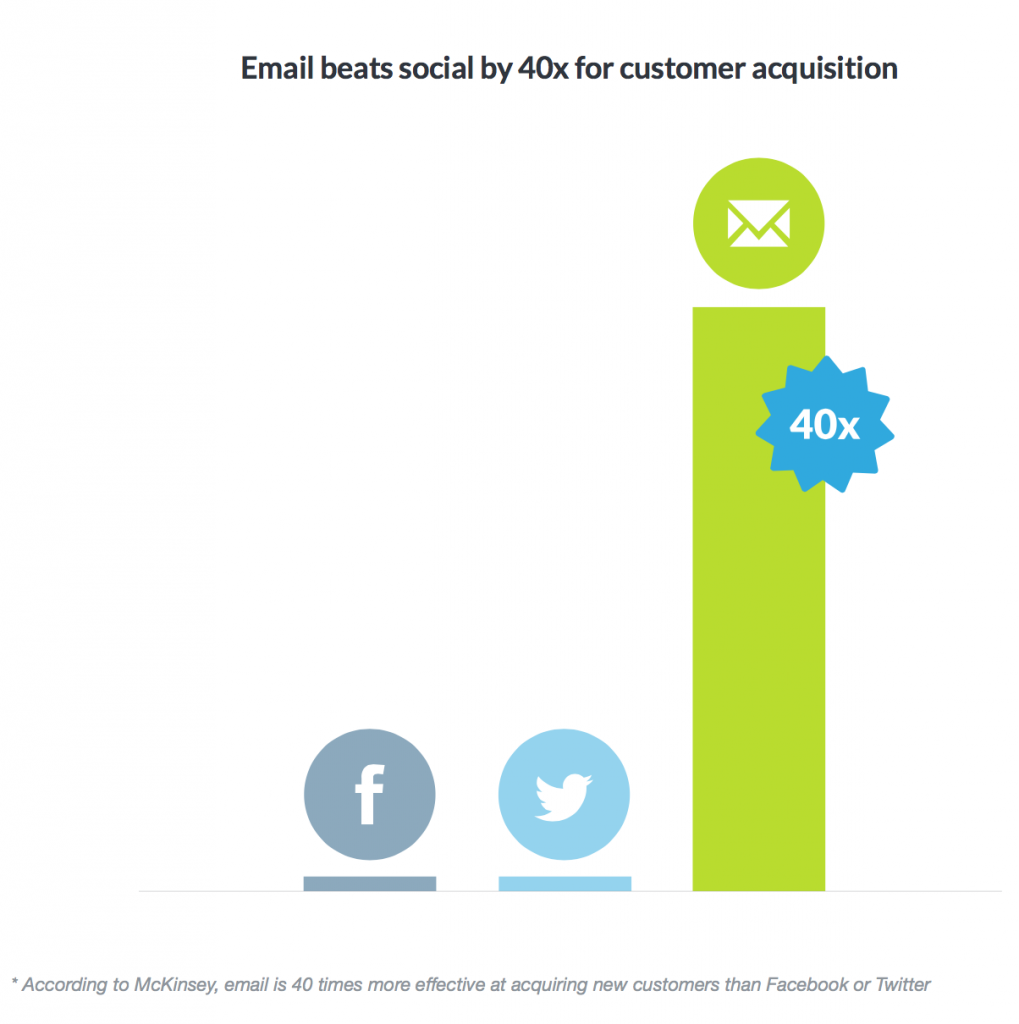 So it's important to do it right.
And as you already know, personalization is the best way to send emails that get people to convert.
You might think the best (or only) way to do this is by using people's names in your emails. It works, but it's not the best way to win at personalization.
Rather, it's an old, tired, predictable technique.
If you aren't using personalized emails at all, you're not the only one.
Relatively few marketers are using real-time personalization, and most don't even use email personalization.
The reason for this is because these companies don't know how to collect the right data for personalization.
Or they know how to collect it, but they don't know how to use it.
With the right knowledge and action, personalization (beyond the basic use of a reader's name) can get you huge results.
Here are eight email personalization techniques that work better than the tired old name game.
Before we get into these techniques, however, let's take an even closer look at exactly why readers might be turned off when they see their name in every email you send.
Names are creepy and overused
People are drawn to their name.
Have you ever thought someone called out to you from across the room, only to turn around and see no one there?
Have you been around someone with the same name as you? Every time someone calls their name, you give all your attention to the person saying it, thinking they're talking to you.
The same applies to email. When a recipient sees their name within the body or subject line of an email, they'll pay more attention to what you've got to say.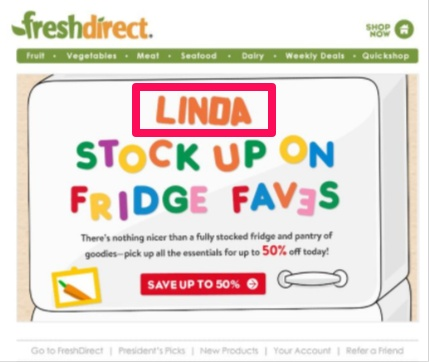 A study by the Stanford Graduate School of Business found that by simply adding the name to the subject line of an email, it has the ability to:
Increase the probability of an open by 20%
Boost sales leads by 31%
Reduce unsubscription rates by 17%
So what's the problem? These statistics make it seem like name personalization is a quick-and-easy trick that works.
But if you do it too much, readers will catch on. And they might even start to think it's a bit weird that you're using their name so often.
There's nothing special about it. You probably have tons of emails in your inbox with your name slapped in the subject line as you read this. I know I do.
Too much name personalization or the use of other personalized techniques in the wrong way will send readers in the opposite direction of your brand.
That's why the best starting place for effective personalization is to gather the right kinds of data so you can use your customers' information in the right way.
1. Collect the right data
If you're not collecting the right kinds of information, you won't have a good starting point for personalization.
Start by collecting information from readers on sign-up forms.
When a subscriber adds themselves to your email list, you can ask them some additional questions beyond the typical email address or name.
In other fields, you could ask for their location, birthday, occupation, or more.
In doing so, however, don't make the field too long. Keep it short but sweet.
Take a look at this one from TopShop: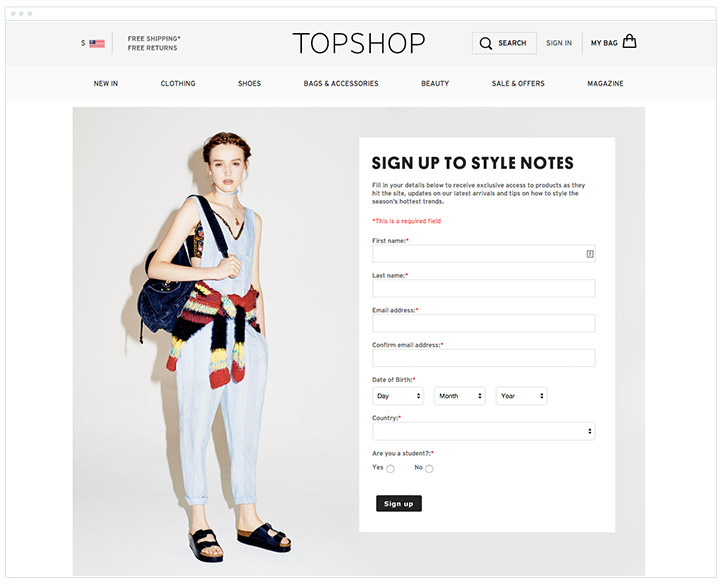 They hit the nail on the head here by asking for a few bits of information without being invasive and pushing a customer to exit the form before signing up.
Next, you can utilize integrations to gather even more data.
Integrations are perfect if you don't have all the right resources to collect information.
And you aren't alone if you don't.
About 36% of businesses claim they don't have enough employees to carry out or monitor data collection, according to a 2016 report from Experian.
Just look at some of the integrations available through MailChimp's software: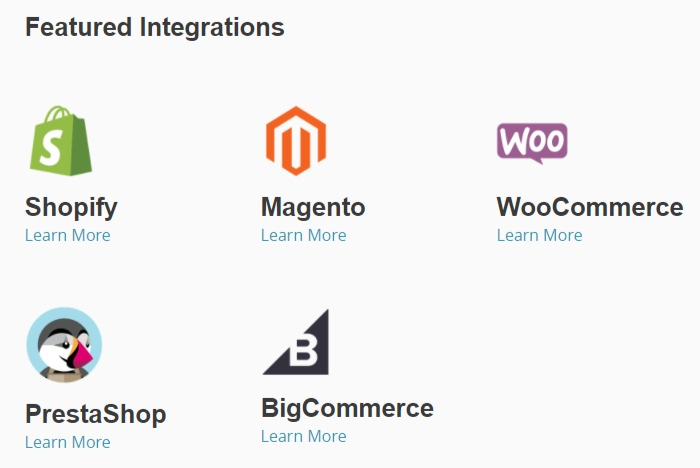 Or, try an email marketing tool like Campaign Monitor.
They have tons of integrations available in the Campaign Monitor App Store that are perfect for gathering customer data.
There's even an entire section of apps that are focused on personalization.
Finally, you should create a subscriber preference center if you want to find out what your readers want to see in the first place.
Here's what Campaign Monitor's subscriber preference center looks like: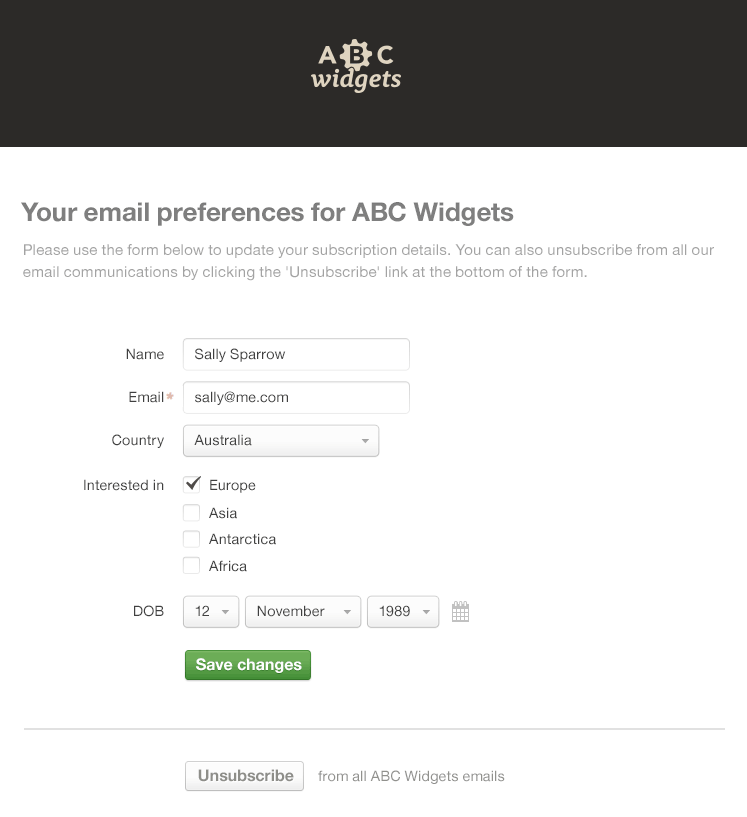 These settings are great for allowing users to update subscription details to keep unwanted emails out of their inbox. That way, you aren't wasting your time sending them.
With this technique, you're letting subscribers make their own choices, which makes them feel more in control of their inbox.
Since every email they'll be getting from you is tailored to their interests, they'll open them.
Great American Country even allows these options with their sweepstakes entries: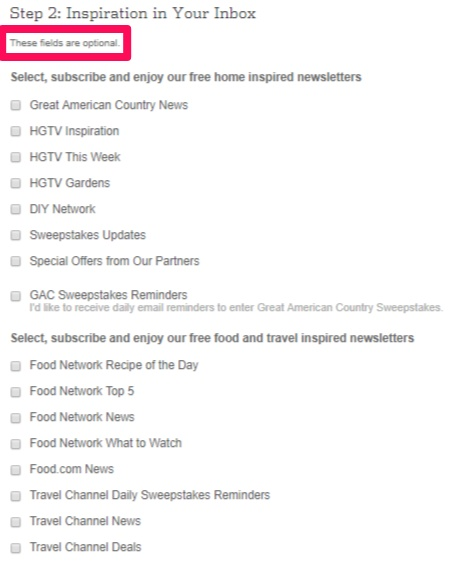 Once you've started collecting the right kinds of data, you can personalize your subject lines.
2. Put personalized subject lines to work
Subject lines have always been important in the world of email marketing.
But they're also the personalization tactic that has to be the most specific in order to work.
For example, subject lines should differ from industry to industry, audience to audience, and so on. You'll have to run your own tests to find the ones that are effective.
With a tool like Drip, you can split-test subject lines to uncover the styles your audience is responding to the most.
It's super simple to set up, too.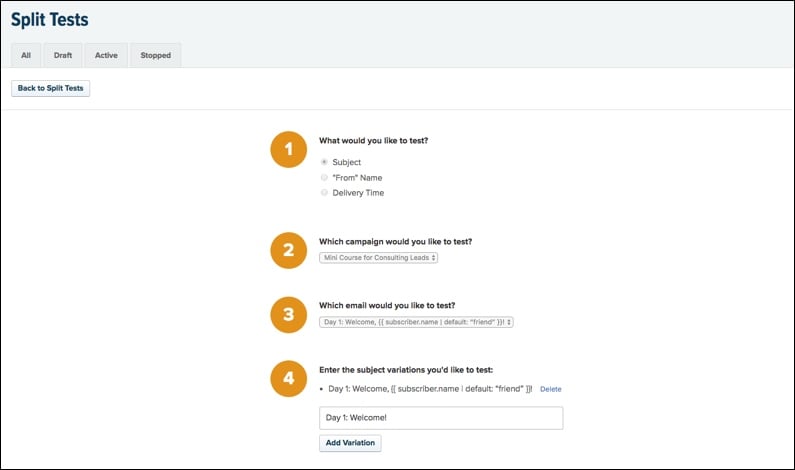 With testing, you can modify the content of your subject lines based on all the data you've already collected about a subscriber's wants, interests, age, location, and more.
Open rates and conversion rates are only up from there.
You can do these A/B tests with most email services, not just Drip. Here's what it looks like in MailChimp: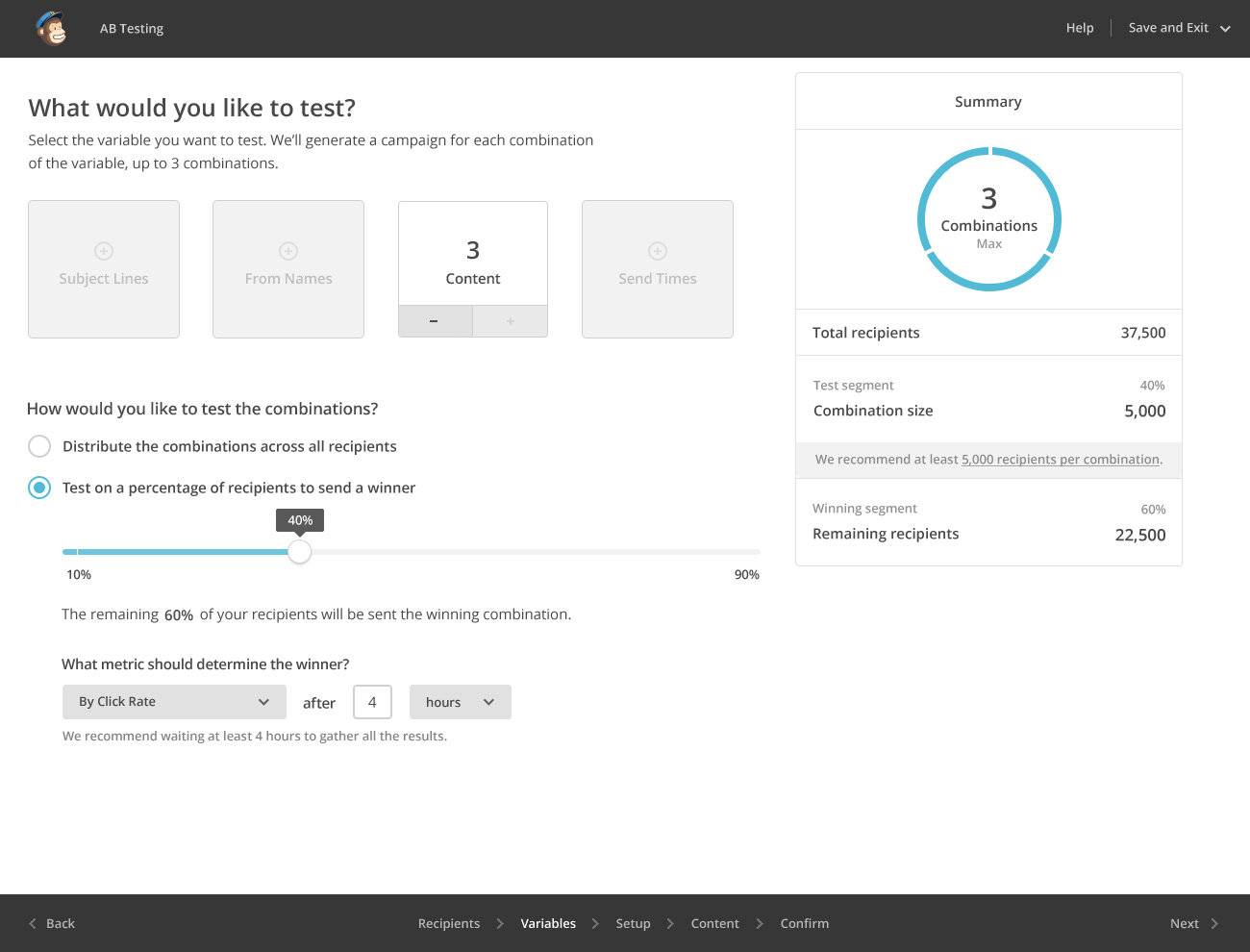 Once you've got subject lines down, you should focus your attention on triggered emails.
3. Use behavior-triggered emails
Behavior-triggered emails are automated reactions to how customers are interacting with your products or services.
And they work well.
The future of email marketing is heading toward triggered emails.
They let you communicate with customers without having to think about it. And they'll help you convert readers and extend the lifetime value of existing customers.
Triggered emails can be sent out for tons of reasons: to welcome readers, re-engage them, upsell products or services, and more.
They're the most personal automated tactic you can use.
And there are tons of tools to help you send out triggered emails that will get huge results, like Intercom.io.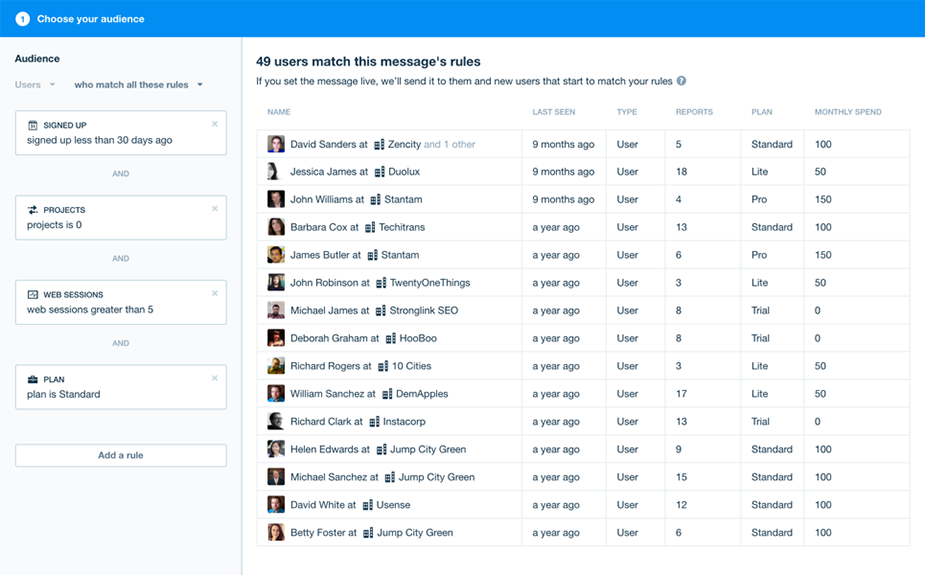 With this tool, you can segment readers in real time and target recipients based off their behaviors and choices.
Then, use measurement and optimization features to monitor how your messages are performing and improve the results of your triggered emails with message-match settings.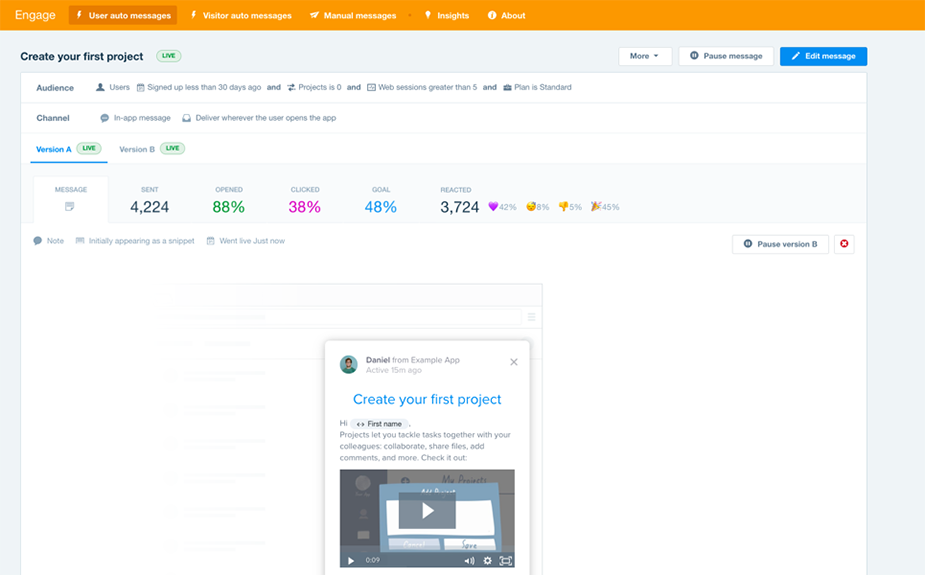 From here, you should start considering the importance of subscriber tags.
4. Don't forget subscriber tags
Subscriber tags let you send personal CTAs in your email content. And you can use them for triggering emails, too.
You can tag subscribers based on their choices, like visiting a certain page on your site, clicking on a link you send their way, and more.
Then, write out emails that will only be sent to recipients with matching tags.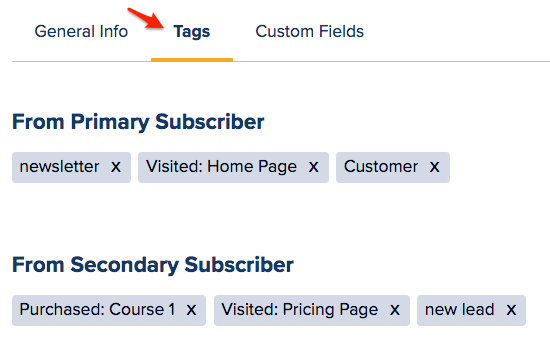 This approach saves a ton of time because you can segment all your workflows through just one email.
Use liquid shortcodes and dynamic copy to do this.

You can easily access this feature in Drip.
For example, with your email subscription list, if you're trying to turn non-customers into paying users, add something like this: the code Drip sends to its users with matching tags.
"% unless subscriber.tags contains "Started a trial" %P.S. If you haven't yet tried marketing automation with Drip, you should get started with 100 free subscribers by following this link. % endunless %"
This way, you're not asking users to start a trial who already have started one. You don't want to waste your time sending out CTAs to people who don't need them.
Then, you'll want to start asking questions.
5. Ask the right questions
An easy way to start segmenting your audience is by asking them questions. It's a pretty straightforward approach, but you've got to ask them the right ones for it to work.
For example, ask customers what brought them to your website, why they started using your service, and so on.
These questions can help you find out what you're doing right (or wrong) pretty quickly, and it makes targeted emails a breeze.
But you don't have to be generic. You can ask questions as a CTA, too.
Let's see it in action with this example from Campaign Monitor:
And SEMrush puts the question right in the subject line.

I'm even using this tactic on my website because it works.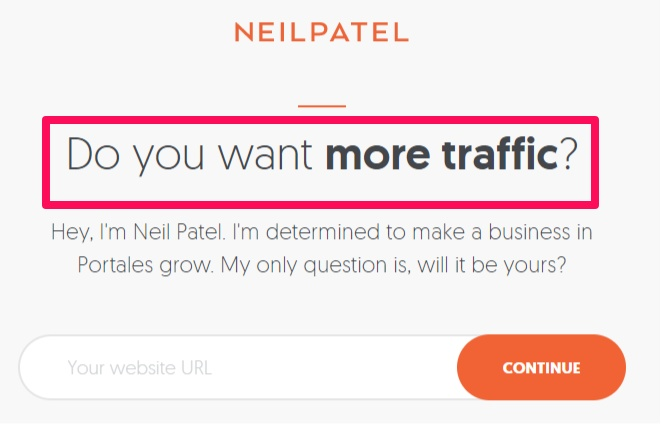 WordStream does it, too, by giving you an option to choose between two answers.
People like to feel like you value their opinions. Questions are the best way to do this.
Now, pay attention to your readers' interests.
6. Watch your readers' interests
We've already talked about a ton of useful email personalization techniques.
But things are about to get more advanced. Don't worry, though. This approach is nothing too crazy (or difficult).
Start personalizing your emails by recommending more purchases or actions based on a reader's past ones.
Amazon is notorious for this, as you already know.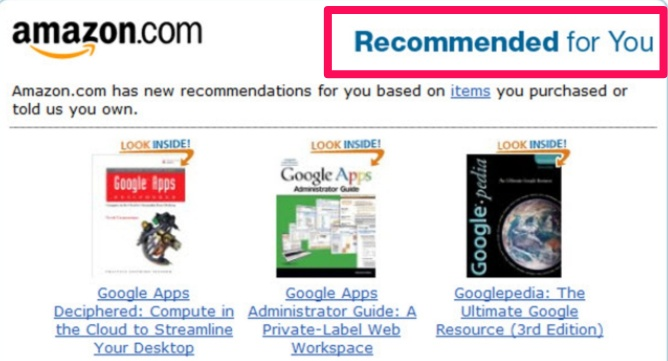 Readers will appreciate the "recommendations" if they've liked their previous purchases that were similar.
Rather than trying to reach all your readers with a promotion, just send it to those who have shown interest in a related topic.
You can do this in any industry. Just suggest related products and services (and add in a discount if you want to make it really personal.)
Just be sure your landing pages are up to par so you direct readers to the right place.
7. Harness the power of landing pages
Personalization can boost your open rates, but the real end goal here is to convert readers into handing over the dough.
So you've got to be sure landing pages are matching up with what you're sending their way. Or, make sure you include them in your emails in the first place, so they've got a place to go.
Imagine if Amazon sent recommendation emails with no links to the actual products they're recommending. Seems pointless, doesn't it?
That's why you've got to make sure there are relevant landing pages in as many emails as you can.
Here's how Grammarly does it: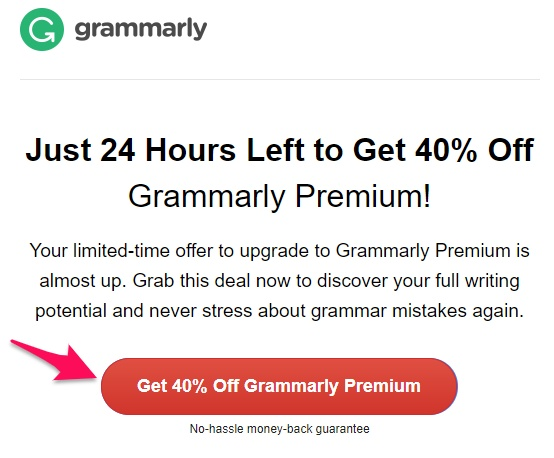 Notice the button? Well, here's where it links:
See how it relates to the email? That's what you want.
And you also want to make sure the landing page relates to the customers you're targeting and the buying stage they're in.
The end goal here is to make the process as seamless as possible for the buyer.
It doesn't hurt to add some urgency, too.
8. Make it urgent with times and dates
There are tons of tools and codes that can help you incorporate dates and times into your emails.
Adding days and times is the perfect approach for driving up engagement because limited-time offers that focus on urgency will push people into taking action.
There are countless ways to do this. And there's no right or wrong way to add in dates and times.
Here's how LastPass does it:

Did you notice they also link to a "Buy Now" page that's right next to the urgent line?
That's brilliant. And you can always make dates or times specific to each customer if you offer things like email courses that readers can join into at any time.
With Drip, you can use the following shortcode to add the time and date a subscriber will receive their next email:
campaign.next_email_send_at
Or, use reminders with a tool like Zoho to remind yourself to send an urgent email if you don't hear a response after a certain amount of time.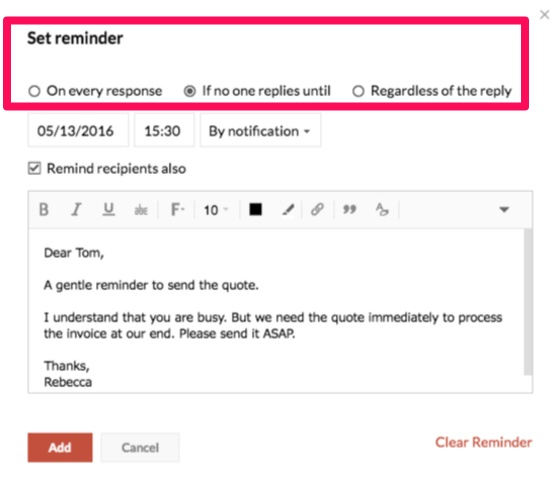 This way, you can set different deadlines for different subscribers depending on when they decide to join in.
You can build toward a paid offer this way, too. But don't let them forget or hesitate.
The goal here is that you don't want them to let your email sit in their inbox until they forget about your offer.
That's why creating a custom deadline is so effective.
Just decide on a timeframe for each offer you think is best, whether it's a few days, a week, a few weeks, etc.
Then, add a date filter like this:
timestamp
The large number at the end is the number of seconds the total timestamp will run for.
You can easily find this by taking the number of days until the deadline and calculating out how many seconds are in those days.
Number of Days x 86,400 = Total timestamp in seconds
You can also sync your emails with countdowns.
If you use a countdown timer tool (like the one that comes with Leadpages), you can set up an offer to run indefinitely.
You can add this into Drip or any other compatible email marketing tool, too.
Be sure to send out a series of emails that reminds people how much time is left for their personal offer as well.
Conclusion
Email personalization is the easiest and most effective way to gain new and paying customers.
And you're already a step ahead of most marketers if you're using it at all.
If you aren't taking the right approach toward personalization, though, it's not going to bring you the results you want to see.
You want people to convert. Using just their name isn't taking personalization far enough. And it might make readers uncomfortable if you do it too often.
But with the right techniques, you can personalize emails in a way that works.
Start by gathering the right data. Sign-up forms are a great place to begin this step.
Then, personalize subject lines to boost open rates. From there, send triggered emails.
Triggered emails ensure that your recipients want what you send them, and they keep you from wasting time with fruitless emails.
You'll also want to use subscriber tags to automate the personalization process.
Ask your readers questions to gain insight and make them feel like you value their opinion. People love feeling like they have options.
Send recommendations to your recipients by paying attention to their interests and purchase history, but make sure you direct them to effective landing pages that relate to the topic.
Last, but not least, add a sense of urgency with times and dates so they can't ignore your offer.
Which email personalization tips have worked best for your company?
The post 8 Email Personalization Techniques That Work Better Than The Name Game appeared first on Neil Patel.