Why and How to Use a Video Background in WordPress?
Lots of modern WordPress themes support video backgrounds, and this feature is very familiar for many website owners today. Many business websites and social media sites use video backgrounds for their site designs.
So why is it great to use video backgrounds in WordPress?
The first reason for this is that video backgrounds improve user engagement and conversion. When a user attends your website, they've got just a few seconds to decide whether your web-page is exciting and relevant for their needs. Make them stuck watching a video on your homepage and get them learn some details of your product in a playful and entertaining manner.
Studies says that adding a video to your homepages or landing pages increases the conversion by 80%. So there is no need to refuse from such a chance to get more visitors and potential customers.
Ways to Use Video Background on Your WordPress Website
There are different ways to set a video background on your any page or post:
You can download or buy a readymade WP theme supporting video background functionality.
You can get a video background plugin.
Or you can use a page builder with additional functions.
There are lots of free and premium WP themes with video background support. If a theme supposes adding a video, you can either easily insert an URL from YouTube or Vimeo or upload a video to the media library and insert it into any post or page.
We will show you how to use the background video in Photography & Video GoodWin WordPress Theme. This is just one of numerous examples of this particular functionality available for different readymade designs, and this is extremely easy to deal with.
So after the theme is installed and activated, go to Pages -> Add New (or Pages -> All Pages to choose one from the list of available pages). Choose the necessary template from the drop down list on the right. Update the page (or save draft).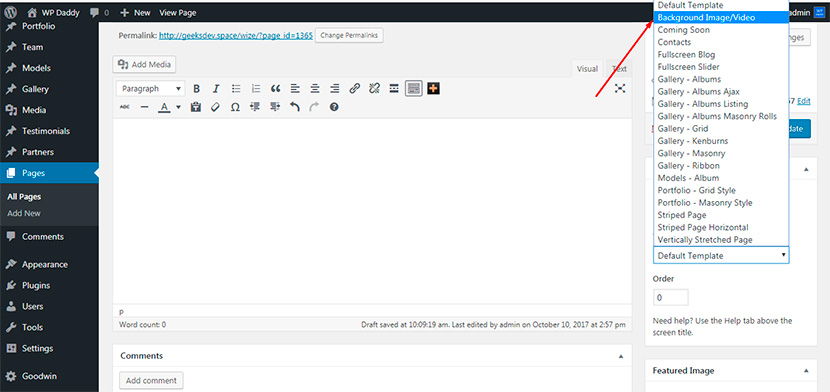 Then choose Video Background in the background options list, and insert the link to your video into the correspondent field.

After that you can publish or update the page to preview the changes live.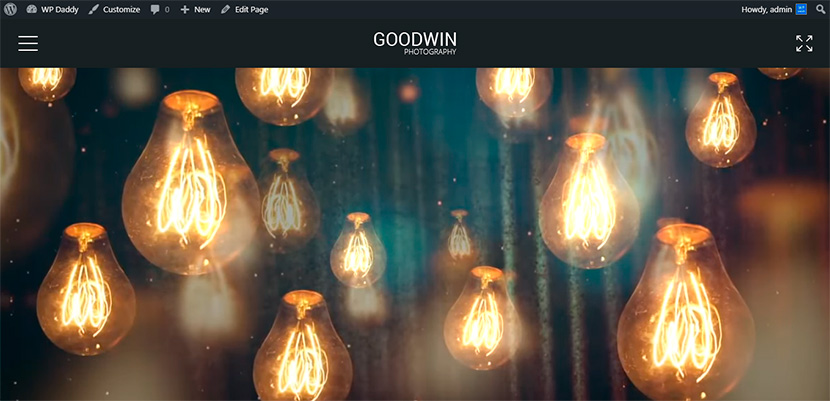 Your video will be visible as a background for your page. That is all.
Video Background Plugins for WordPress
By the way, there are some fresh video background premium plugins which can help you attract your website visitors and increase your conversion. Check them out:
CountDown With Image or Video Background – Responsive WordPress Plugin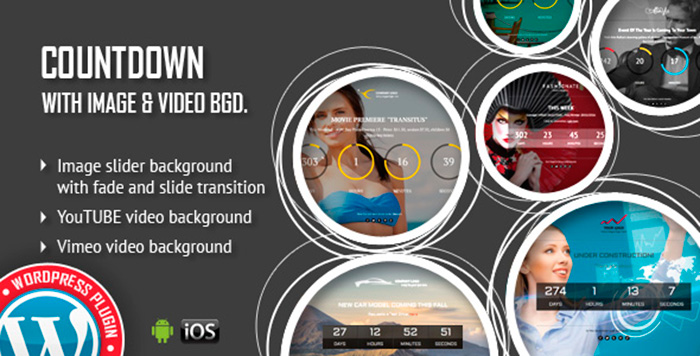 This is an awesome plugin which you can use to create an image slider background with fade and slide transition, a YouTube video background or a Vimeo video background. You can also use it as a countdown plugin which will show users the page announcing a website is under construction.
Allground – WordPress Fullscreen Background | Media
Another WordPress plugin allowing to create responsive fullscreen backgrounds with images, YouTube videos, hosted or linked videos, or Google maps. You can upload an MP4 video to create a fullscreen background and add a WebM video for Opera compatibility.
Easy Video Background
A plugin that lets you add video in the background of your website with a single Javascript call. The script automatically picks the most optimal video format based on the browser where it runs in. When the HTML5 video tag is not supported, a Flash fallback will make sure the video is visible.
Conclusion:
If you wish to create video background on your WP website, it won't take much effort, just choose an appropriate theme with the necessary functionality or install a good plugin into the theme supporting this functionality, and you can create engaging web-pages in seconds.
The post Why and How to Use a Video Background in WordPress? appeared first on .