Top 5 Tips on Launching a Profitable Online Store With WordPress + Useful Plugins
So you resolve to create an eCommerce website powered by WordPress, and now it's time to set it up, launch and run it for your profit. But if launching an online store is a pretty easy task, then promoting your website and your products is a very responsible and complicated process which is not that simple.
We've compiled a bundle of clear tips helpful for those who want to run a successful web store with WordPress. Let's review them!
1. Optimized Content
No matter what website you run, we all know, that content is a king. If we speak of an online store, your main content is your products description which has to be SEO-friendly to make your products easy to find on the Web. It's important to make your products searchable not only by name, but also by type, category, material, and other related characteristics.
When you optimize your content, you choose a list of keywords and key phrases, then you create a SEO title, meta description, tags, you insert the product name and all definitions of your product that customers are likely to use when looking for this kind of product in Google.
Of course it's also essential to optimize your images by adding a SEO-friendly caption. If the image is properly named, it will appear in the Google images when a user makes a definite search request.
SEO-optimization of your store includes a lot of other comprehensive tasks, and all of them should be considered. You can use plugins and online services to get suggestions as for SEO optimization or automate this process.
Please see the following plugins:
Woocommerce SEO
If you use WooCommerce for your WordPress online store, you probably know that this eCommerce solution is not as SEO-friendly as it should have been. So this WooCommerce SEO plugin is an additional solution which will make your store more optimized for SEO engines.
This plugin is helpful to remove product category base, keyword rich URLs when using filters, get automatically generated page tiles and meta description, create custom page tiles and meta description, create noindex/nofollow pages, and of course use the improved breadcrumbs.
SEO Category and Tag Descriptions for WooCommerce
This is a very useful plugin which allows to add a WYSIWYG editor to WooCommerce product categories and product tags in the WordPress dashboard. The plugin adds SEO rich content to product category and product tag archive pages that appear below the list of products. This solution also comes with a widget you can use to display the description and/or detail fields in any widget area.
WooCommerce SEO Images
This plugin will help you optimize the Alt and Title attributes for all images on product pages. It will automatically update the attributes for every image to provide optimal SEO benefits with different items associated with the product. It also automatically creates an XML image sitemap and adds the images to that sitemap.
WooCommerce SEO Robot
A WooCommerce extension that adds meta tags to your product pages and a homepage of your store. This is a tool which helps to lead your site to high ranking in the search results, and this will make your website visible for a bigger amount of potential customers.
Category URLs Fixer for WooCommerce
A plugin which automatically improves WooCommerce URL structure for product categories/subcategories, removing (redirecting) duplicated contents. Just install the plugin and it will automatically start doing its job. No configuration is required.
2. Quality Imagery
Visual appeal is one of the main factors that influence a client's decision on whether to buy a product or just flip through it and go further. Your product photos should:
be available in high-resolution;
a product should be captured from all perspectives;
zoom functionality is preferable.
Depending on the type of product, consider what viewing angles should be depicted on the photo to allow a customer examine the product in detail and make sure it is a quality one worth to purchase.
For instance, you sell a skirt, what photos you should make? We guess this should be a photo of a zipper (if there is one), a label, backstitch, the seamy side and the right side, etc.
If you sell decorative cosmetics, for instance a BB cream, there should be swatches of consistency, color, covering power (on the skin), the tube itself, etc.
Please see the following helpful plugins:
WooCommerce Zoomifier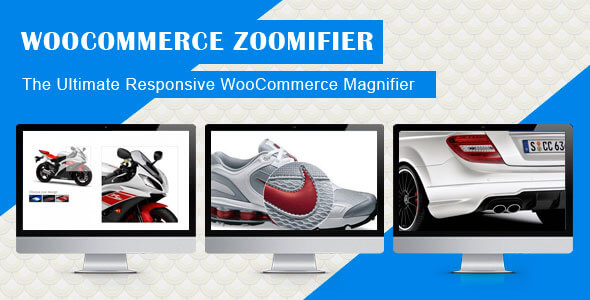 This plugin adds a zoom/magnification and lightbox effect to product photos along with a customizable image slider. When it is hard to get a sense of the real quality and the details of an online product, this plugin allows to see the product images clearly and bring your products closer to customers.
WooCommerce 360 Degrees and Video Product Viewer
A plugin which provides you an easy way to add a dynamic, controllable 360 degrees image rotation and preview videos to your WooCommerce website. By adding a group of images or video-embed codes to a product, you'll have a beautiful image rotation and videos. The plugin is fully responsive.
3. Easy Checkout and Payment Process
A tremendous competition between online markets makes their owners ease the process of online shopping for customers. The simplicity of navigation and search functionality allow visitors quickly and easily find a required product, and a simplified checkout process helps to place an order within seconds.
Some online stores get their clients make a purchase with one click, a customer just clicks a Buy button and leaves their telephone number or email, and that's all. After the order is made, a manager contacts a customer to specify the details (the address of the recipient, the delivery method, etc.).
A one-click method is sometimes easier than adding a product to the basket, leaving a lot of information for a merchant, and making multiple steps until you end up this boring process of placing an order. However, this method is more convenient for many customers who don't like talking to a manager by telephone or by email. So just make a research and find out what method will be more appropriate for your particular niche.
Of course when you launch an online store, you should think about having a few different payment options for your customers. So pay your attention at streamlined solutions which will allow you integrate different payment gateways into your store:
WooCommerce Cybersource eCheck Payment Gateway
An extension which allows to accept payments in WooCommerce via CyberSource eCheck Payment Gateway. Secure, fast and reliable checkout process, easy and manageable extension settings, and more features are available.
Mastercard Payment Gateway WooCommerce
This solution gives the ability to accept secure, international payments through the robust Mastercard Payment Gateway. The module adds a payment method to the WooCommerce checkout enabling credit and debit card payments to be accepted securely.
WooCommerce Square Up Payment Gateway
This plugin helps to pay with Square at WooCommerce checkout. It also allows to manage refunds between WooCommerce and Square. Square card payment API support is currently available in US, Canada, UK, Australia and Japan.
PayPal Payment Terminal WordPress
This script would be ideal for taking donations/contributions on your website, accepting payments from your clients or receiving payments for pre-defined services. Check the plugin to find out how to install and use it.
Stripe Payment Gateway for WooCommerce
Another extension which helps to accept payments in WooCoomerce via Stripe.com – a service for accepting credit cards online. The extension can also store customer and card information in your Stripe account, so your customers can utilize their stored card information for future purchases in your store.
4. Return and Refund Policy
Make your refund policy clear for customers to avoid any misunderstandings. Speak easy language and use simple terms when you write a post where you explain customers how they can return an out-of-spec product (if there is one) and how they can have their money back guarantee.
It would be great to make an FAQ section and of course hire a qualified support manager for this particular purpose.
5. Mobile Users
It goes without saying that your online store should be responsive and should look great on all desktop and handheld devices. There were lots of researches proving that most of modern users browse websites from their mobile devices and make purchases from their phones and tablets.
We've spoken a lot about the rules of creating a user-friendly responsive design, and all of these rules are currently on demand. Google also takes mobile friendliness into consideration when ranking websites in the search results. Positive user experience of your potential customers is another important aspect which makes your store popular among your target customers.
Conclusion
Running your online store can be really fun and pleasant thing. Just remember that real success doesn't come instantly, you just have to make efforts, work for your main goal and never give up. Make it right and win the competition!
The post Top 5 Tips on Launching a Profitable Online Store With WordPress + Useful Plugins appeared first on .